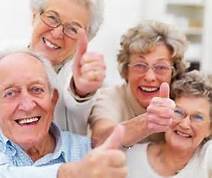 May is National Older Adults Month.  It is a great time for families to examine the needs of their parents, grandparents and other older adult members of the family.
Preparedness is the same no matter what your age; but, older adults will want to consider their personal preparedness plans because of access or functional needs, such as medication needs, hearing loss, cognitive or mobility disabilities.  For example, an older adult may take the same action to prepare for emergencies, including:
Knowing about and planning to receive alerts and warnings;

Sign up for local alerts and warnings
Download apps,
Check access for wireless emergency alerts

Update medications, batteries for hearing aids and other assistive needs at the same time you are updating other supplies in you emergency supply kit;
Keep a list of all medical providers, medical information in a safe place that is easy to access, if needed;
Document and insure property; and
Safeguard all important documents

Vital records (birth, marriage, divorce, adoption, child custody papers)
Passport, driver's license, Social Security card, green card, military service identification
Pet ownership papers, identification tags
Housing (lease or rental agreement, mortgage, deed
Vehicle (loan documents, VIN, registration, title
Financial (checking, savings, debit cards, retirement, investment, utility bills, credit cards, student loans, alimony, child support elder care, automatic payment such as gym memberships
Insurance Policies (homeowners, renters, auto, life, flood appraisals, photos, and lists of valuable items
Sources of Income
Tax Statements
Estate Planning (will, trust, power of attorney)
If you, someone you care for, an elderly relative, or an older neighbor receives regular treatments from a clinic, hospital, or a home healthcare service, be sure to talk with the service provider to determine backup plans in the event of an emergency.