Winter is coming! Are you ready?
View in FEMA Multimedia Library
HERE ARE SOME TIPS FOR WINTER PREPAREDNESS:
Winterize your home by adding insulation to walls and attics, caulking and weather-stripping doors and windows and installing storm windows or covering windows with plastic.
Clear rain gutters, repair roof leaks and cut down tree branches that may fall during a storm.
Have your heating system cleaned and checked. Include your chimney.
Insulate pipes and allow faucets to drip a little during extremely cold weather to avoid freezing.
Find out where your shut off valves are for utilities and know how to safely shut them off. Especially the water shut off valves to prevent pipe bursts.
Keep fire extinguishers on hand on every floor and know how to use them. Install carbon monoxide detectors and smoke detectors.
During power outages, only use safe heating devices. Others, such as a portable gasoline heater, propane heater, natural gas heater or charcoal heater can cause deadly carbon monoxide poisoning.
Check your flashlight and have extra batteries on hand.
If you use a generator, do so in open areas away from windows and home to prevent carbon monoxide poisoning.
Bring pets and animals inside. Move livestock to sheltered areas with non-frozen drinking water. Winterize your barn, shed or other structures that may provide shelter for livestock with sheeting. Extra straw on the floors will help keep your animals warm during extreme cold.
Travel only if necessary. Keep an emergency kit in your vehicle. Slow down and don't crowd the plow. Follow directions from local officials.
When going outside, wear loose-fitting lightweight, warm layers, rather than one heavy layer of clothing.
Look in on your neighbors before, during and after a storm to make sure they are OK.
Run your ceiling fan in reverse to help circulate warm air that gathers near the ceiling.
When a Winter Storm is forecast, prepare for possible power outages. Add warm clothes to your emergency kit, a radio that is battery operated or hand crank, chargers for mobile devices, fill your gas tank,  and get some extra cash in case you need to evacuate.
If you do evacuate, let your family and friends know where you are.
These are just a few suggestions for winter preparation. Learn more at-  www.ready.gov/winter-weather.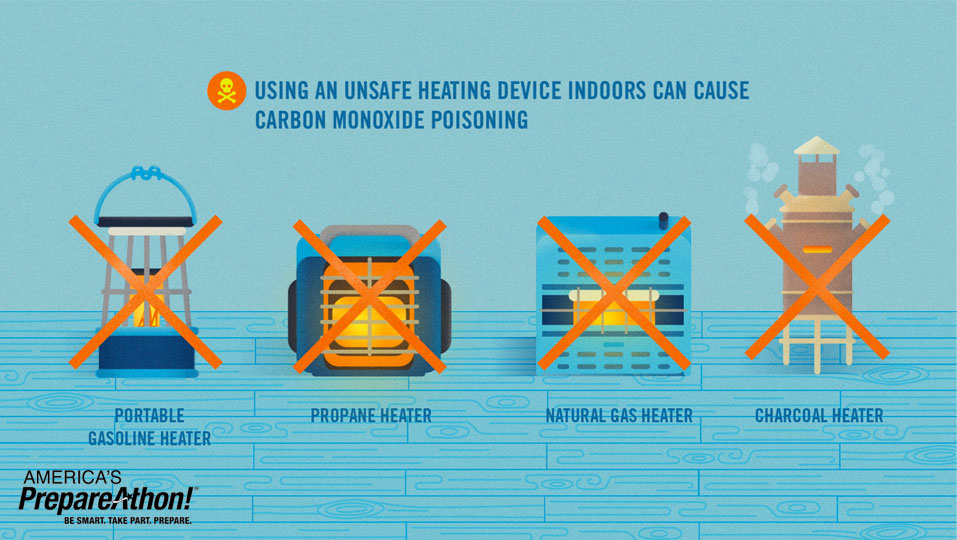 IF YOU BECOME STRANDED OR TRAPPED IN YOUR CAR:
Don't walk around in the snow to look for help. You might lose your way or become exhausted.
Remember to occasionally check your tailpipe to make sure it's free of snow. Cleaning the pipe will avoid carbon monoxide poisoning when the engine is running.
Keep yourself moving. A car offers very little room, but exercise is essential to keep your blood circulating.
Make your car visible for a rescue. Hang a bright colored cloth or plastic from the windows. If the snow has stopped falling, open the hood of the car as a signal of distress.
If you have cell service, call 911 and ask for help. Do not hang up until you know whom you have spoken with and what will happen next.
Sign up for wireless emergency alerts (WEA) before you travel to receive life-saving alerts wherever you are.
Items found in your vehicle emergency supply kit can assist you until help arrives.
.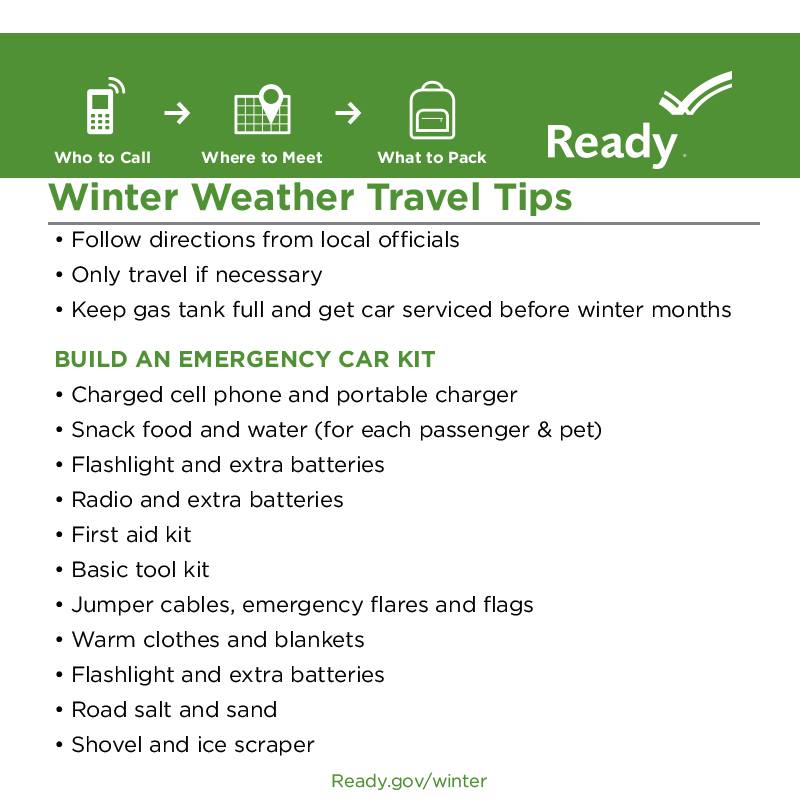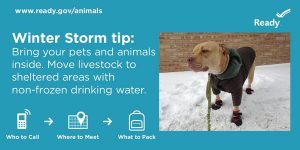 Winter Pet Protection
Winter can prove dangerous for our four-legged family members. Taking extra precautions during winter months can ensure your pets stay happy and healthy when those temperatures plummet. The Humane Society of the United States (HSUS) suggests the following:
Keep pets warm and indoors. No matter the temperature, windchill can threaten a pet's life. Pets are sensitive to severe cold and are at risk for frostbite when outdoors during extreme cold snaps. If you are cold your pets are cold too.
Protect paws from salt. This and other chemicals used to melt snow and ice can irate the pads on your pet's feet. Be sure to wipe off their paws with a damp towel.
Avoid antifreeze poisoning. Antifreeze has a sweet taste that may attract animals, but is a deadly poison. Don't allow pets to wander unattended near driveways, garages or other places where they may come into contact with antifreeze. Switch to a brand of antifreeze containing propylene glycol that can lower your pet's risk of poisoning, but it's still toxic. Learn how to detect the early symptoms of antifreeze poisoning in your pet.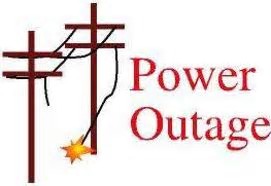 COLD WEATHER SAFETY TIPS :
Wind chill measures the heat lost by the body due to weather. The colder the air and the stronger the wind, the faster heat is lost. It's better to stay indoors during extreme cold. If you must be outside it is important to know that the cold can cause serious health risks if you don't take precautions.

Hypothermia is a drop in body temperature. It can make you unable to think clearly or move well. Hypothermia is very dangerous. Wear multiple, loose-fitting layers of clothing.
Watch for signs of hypothermia like shivering and confusion. If body temperature drops below 95 degrees, seek medical help.
Excess water can cause an increase in heat loss. Wear water proof clothes and boots.
Wear a hat. 40% of your body heat is lost through your head.
Drinking certain beverages, suck as coffee, can cause dehydration. This speeds up heat loss and the effects of the cold. So stay hydrated.
Toes, fingers, ears and nose are the most susceptible to frostbite. They have the least muscle to keep them warm and are farthest from internal organs. Wear gloves and a scarf.
Take it slow when shoveling snow. Overexertion can bring on a heart attack. Take frequent breaks.
Stay dry. Wet clothing loses all of its ability to insulate.
Help firefighters by keeping fire hydrants clear of snow.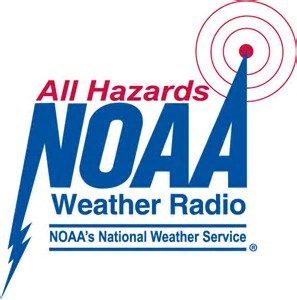 Know your Weather terms:
Winter Storm Watch

– usually issued 12-48 hours before. You could see enough snow, sleet and/or freezing rain to cause travel and/or power outages. There are still questions about where, when and how much. Get ready just in case. It is NOT a guarantee. Not everyone will get it.
Winter Weather Advisory – issued up to 36 hours before. Very likely you will see enough snow, sleet and/or freezing rain to cause slick roads, but amounts shouldn't be enough to create major issues.

Winter Storm Warning

– issued up to 36 hours before. Potential life-threatening event. Very likely you will see enough snow, sleet and/or freezing rain to cause major travel problems and potentially power outages.

Ice Storm Warning

– High confidence of significant ice accumulations on trees and power lines that will cause widespread power outages and travel problems.

Blizzard Warning

– High confidence of a dangerous combination of wind, snow and blowing snow that will create treacherous travel conditions and major disruptions.
Heavy snow for our area is defined as 7 inches or more in 24 hours or less.
And your Road terms:
Level 1 Road Emergency

– means that roadways are hazardous with blowing and drifting snow. Roads are also icy, so drive carefully.

Level 2 Road Emergency

– Roadways are hazardous with blowing and drifting snow. Only those who feel it is necessary to drive should be out. Contact your employer to see if you need to report to work.

Level 3 Road Emergency

– ALL roadways are closed to non-emergency personnel. No one should be out during these conditions unless it is absolutely necessary to travel. Employers should issue a letter or sticker for essential employees that need to report to work. (i.e. hospital, restaurants, hotels, service station, etc). Employees should contact their employer to see if they should report to work.