FLOODS
Historically, floods are and continue to be one of the most destructive and costly natural hazards facing Guernsey County. Very few areas in Guernsey County are completely free from the threat of floods. Flooding can occur from rainfall, snow melt or dam failure.
Many people will remember September of 2004 when the county was saturated first from Hurricane Frances- almost 3 inches of rain, and then one week later, Hurricane Ivan.
Know your terms:
Know your terms:
Flood Watch – means that the potential is there for flooding to occur.

Flash Flood Warning – signifies a short duration of intense or rapid flooding for streams, creeks etc.

Flash Flood – rapid and life threatening floods resulting from heavy rains that occur in a short period of time.

Flood – occurs when water overflows the natural or artificial confines of a stream or body of water or accumulates by drainage or low lying areas.
Preparedness
Response
Recovery
Mitigation
Stay informed of weather conditions.
Consider purchasing flood insurance.
Find out which roadways are likely to flood and find an alternative route so you can avoid them.
Create your emergency kit and family communications plan. Don't forget about your pets!
Charge all essential electronics.
IF you have to evacuate, prepare an emergency Go Bag so you're ready to leave at a moment's notice.
Be proactive and leave before flooding starts to avoid getting stranded.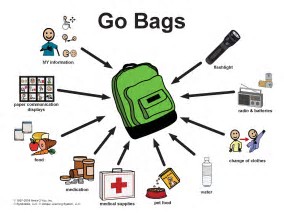 Stay informed of local news and updates.
Get to higher ground if you are in an area that floods.
Follow evacuation orders and heed warning signs.
If you have time, disconnect utilities and appliances.
Avoid flood waters. It is NEVER safe to drive or walk thru flood waters. REMEMBER:  When flooded, turn around, don't drown. (Especially at night!)
6 inches of fast moving water can knock an adult off their feet and sweep them away.
12 inches of moving water can carry off a small car.
18-24 inches of water can carry away larger vehicles including trucks, vans and SUVs.
Stay informed of updates on affected areas and the safety of your drinking water.
Contact your family and loved ones to let them know you are ok.
Stay out of floodwaters- the standing water can hide chemicals that could make you sick, power lines that can cause electrocution and other sharp debris that might cause serious injury.
Heed road closure and cautionary signs.
Wait for an "all clear" before returning to an area that was impacted by flooding.
Avoid the disaster areas – your presence may hamper emergency operations.
Contact your insurance agent and take pictures of flood damage to your home.